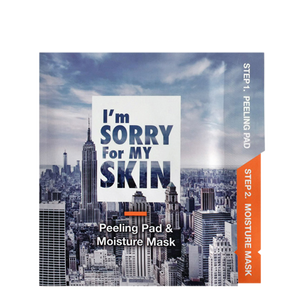 Description
Step1 Peeling pad
BioD ToxIH: Removal of dead skin

Kakadu Plum Extract, Biolumino Peel: Smooth skin texture and gloss

AQUAXYLTM: Supplies moisture to skin and preserves its balance

Revive Complex: Skin Soothing, Skin Vitality

Skin Fortifier Complex: Strengthen skin barriers

Revitalin PF, Resurrection plant extract: Skin stress reduction
Step2 Moisture Mask
Skin Soothing

Supplies moisture to skin and preserves its balance

Skin Soothing, Skin Vitality

Strengthen skin barriers

Resurrection plant extract: Skin stress reduction
KEY POINT
2-Step mask with a gentle peeling effect to smoothen the skin by removing waste and dead cells and restore its moisture balance.

Step1. Peeling Pad Smooth peeling to restore its elasticity by moisturizing and smoothening it.
Smoothens and moisturizes bumpy skin with excessive exfoliation and sebum.
Apply just once a day to clean the pores and moisturize your skin, perfectly removing makeup, exfoliation, microdust and sebum

Step2. Moisture mask: Mask for emergency moisture recharge on a busy morning or an exhausted evening
Usage
1. Softly wipe out the dirts and dead skin with the peeling pad.
2. Take out the moisture mask to recharge your skin
*Kindly note that results from the use of beauty product above may vary depending upon the individual and will depend on multiple factors, which include but are not limited to your age, gender, skin type and condition, use of other products used, health history, lifestyle, and diet.