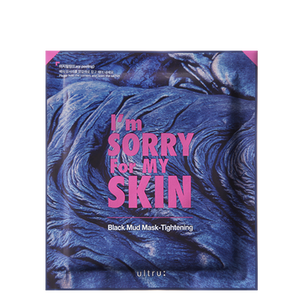 Description
No need to apply mud to your face with mud sheet mask. 

Using filament sheet, it gives mud's adhesion and a good feeling to use. 

Natural clay, volcanic ash, bentonite ensure adsorption of micro-harmful substance, removal pf exfoliated skin and excess sebum control.

#Black Mud Mask - Tightening for excessive sebum and exfoliation.
Usage
1. After cleansing and toning, open the pouch and remove one side of the film first
2. Place the mask evenly on your face, the side where you removed the film should be the one in contact with your skin
3. Remove the other side of the film and leave the mask on for 30-40 minutes until the mask hardens completely.
4. Remove sheet mask from bottom to top and rinse off with lukewarm water.
Note: You may feel a tightening sensation while the mask dries. This sensation is normal and expected. 
Ingredients
#Black - Tightening: Purified water, kaoline, Butylene glycol, Bentonite, Polysorbate 20, Polyglyceryl-3 methyl glucose, Distearate, Sea Silt, Betaine, Magnesium aluminum silicate, Ash, Glyceryl stearate, SE, Methylglucose sesquistearate, Sodium polyacrylate, Polyvinyl alcohol, Xanthan gum, Hydrogenated polydecene, Ethylhexyl Glycerin, Orange oil, Methyl dihydroazamonate, Lemon peel oil, Bergamot berries oil, Trideceth-6, glycerin, Lavender Oil, Linalool, Benzyl benzoate, Methyl alcohol, Echilobium flavonacea extract, Butyl phenyl methyl propionate, Sentient geranium flower oil, Basil oil, Saccharide isomerate, Citronellol, Silica, Propanediol, Geraniol, lecithin, 21-hexanediol, Ammonium acryloyldimethyltaurate / Vpicopolymer, Polyquaternium-51, Evening primrose extract, Desert Sand Verbena leaf extract, Agave stem extract, Joshua tree root extract, Perennial flower extract, Candlewood stem extract, Creosote bush extract, Watercress extract, Asparagus extract, Citric acid, Potassium sorbate, Potassium phosphate, Sodium benzoate, Gluconolactone, Calcium gluconate, Sodium citrate, Palmitoyl tripeptide-5, Disodium EDTA, Phenoxyethanol, Perfumes.
*Kindly note that results from the use of beauty product above may vary depending upon the individual and will depend on multiple factors, which include but are not limited to your age, gender, skin type and condition, use of other products used, health history, lifestyle, and diet.