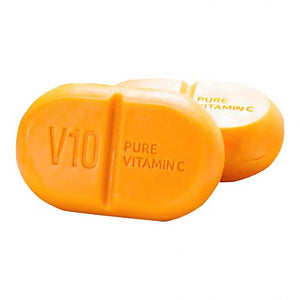 Description
Whitening soap bar is newly launched by Some By Mi.
If you are looking for the cleanser which works for whitening and brightening, V10 Pure Vitamin C Soap is perfect for you.
With natural oriented ingredients, vitamin C and other 10 kinds of vitamin are included.
Usage
1. Roll massage your cheeks.
2. Massage your nose up and down.
3. Roll massage your forehead below the hairline.
4. Carefully massage near your eyes and mouth.
*Kindly note that results from the use of beauty product above may vary depending upon the individual and will depend on multiple factors, which include but are not limited to your age, gender, skin type and condition, use of other products used, health history, lifestyle, and diet.