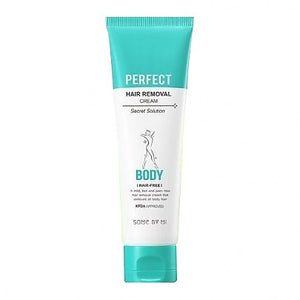 Description
SOMEBYMI Perfect Clear Hair Removal Cream works by dissolving hair.
With constant use, the hair becomes thinner and softer over time.
Usage
1. Clean and pat dry the area you with to treat.
2. Apply enough amount of cream to fully cover the hair and leave it for 5-7 minutes. (Do not exceed 10 minutes.)
3. If the hair comes away easily when wiping off a small test area, you can remove the rest with a damp washcloth or rinse well with lukewarm water.
Ingredients
Water, Butylene Glycol,Dipropylene Glycol, Glycerin, Niacinamide, Melaleuca Alternifolia Tea Tree) Leaf Extract, Polyglyceryl-4 caprate Carica Papaya (Papaya) Fruit Extract Lens Esculenta (Lenti) Seed Extract, Hamamelis Virginiana Witch Hazel), Extract Nelumbo Nucifera Flower Extract, swiftlet Nest Extract, sodium Hyaluronate Fructan, Allantoin Adenosine, Hydroyethyl Urea, Xylitol Salicylic Acid, Lactobionic Acid, Citric Acid , Sodium Citrate, 1.2-Hexanediol, Benzyl Glycol, Ethylheeylglycerin,Raspberry Ketone, Mentha Piperita (Peppermint) Oil
*Kindly note that results from the use of beauty product above may vary depending upon the individual and will depend on multiple factors, which include but are not limited to your age, gender, skin type and condition, use of other products used, health history, lifestyle, and diet.