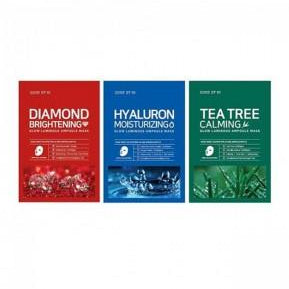 Description
Three types of ampoule mask to moisture skin with naturally derived extracts and effective ingredients:

Tea Tree Calming - Contains Tea Tree Leaft Extract and Centella Asiatica Extracts for skin soothing, pore caring and moisturizing. Helps to calm the irritated skin which is caused by the external aggressors.

Hyaluron Moisturizing - Contains 3 types of Hyaluronic Acid and Jeju Oxygen Water for moisturizing, moisture retaining and skin barrier reinforcing.

Diamond Brightening - Contains Diamond Powder and Pearl Extract for brightening, skin glowing and moisturizing.

The mask sheet is made by100% cellulose. 

With 0.2mm thin and weightless texture and powerful adherence to deliver nutrients effectively.
Usage
1. After cleansing, apply toner to prepare your skin, place the mask correctly on the face.
2. Leave on for 10-20 minutes before take off, pat gently until the remaining essence is absorbed.
*Kindly note that results from the use of beauty product above may vary depending upon the individual and will depend on multiple factors, which include but are not limited to your age, gender, skin type and condition, use of other products used, health history, lifestyle, and diet.