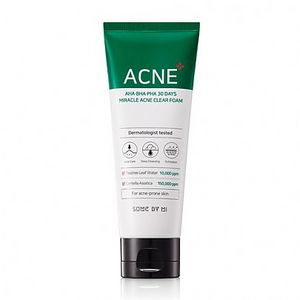 Description
AHA: Removes impurities and dry flakes from skin surface.
BHA: Exfoliates pores, removing clogged impurities and sebum.
PHA: Stops losing moisture from skin, dissolving dead skin cell.
Contain of Tea Tree 10,000ppm, AHA/BHA/PHA/Niacinamide 2%, 20 kinds nature plants extract.
Usage
Massage a suitable amount on wet face and rinse off with lukewarm water.
Ingredients
Glycerin, centipedial extract, palmitic acid, stearic acid Ric acid myristic acid, potassium hydroxide, lauryl betaine. Butyleneglycol phage-100 stearate, glyceryl stearate, beeswax, tea tree leaf water, sodium methylcocoyl taurate, potassium cocoyl glycinate, salicylic acid, dipropylene glycol monosodium hydroxyacetate Fumarate, peppermint oil, caprylic glycol, 1,2-hexanediol di-sodium,ditallow hydroxyethylcellulose calamine, gluconolactone, citric acid, dipotassium glycyrrhizate, , Madecasoide, Asian Ticoside, Asiatic Acid, and Madeca Acid
*Kindly note that results from the use of beauty product above may vary depending upon the individual and will depend on multiple factors, which include but are not limited to your age, gender, skin type and condition, use of other products used, health history, lifestyle, and diet.