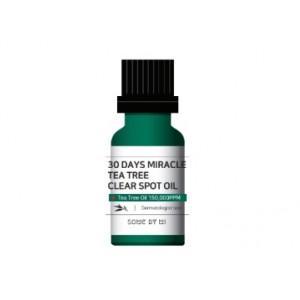 Description
Tea Tree Spot Oil for Trouble Skin

 

-It contains 150,000ppm tea tree oil from Australia and contains 19.88% tea tree leaf extract in Korea. It is effective to concentrate troublesome skin even with a small amount
Fast sedation and convergence of localized areas

 

- Tea tree oil, which effectively soothes skin problems, calms the redness of the skin and helps the pores converge. Combination Calming Item is a combination of calming and moisturizing ingredients such as vitamin B5 panthenol and allantoin.
Sebum Control and Cooling

 

- The excessive sebum in the problem area is easily controlled, and the cool tea tree scent adds a refreshing effect to the skin tired of external stress, adding a powerful cooling effect.
Usage
1. Apply 1-2 drops on a cotton swab and massage it onto the troubled spot. 
2. Then add 1-2 drops of the oil into cold water and rinse your entire skin.
*Kindly note that results from the use of beauty product above may vary depending upon the individual and will depend on multiple factors, which include but are not limited to your age, gender, skin type and condition, use of other products used, health history, lifestyle, and diet.