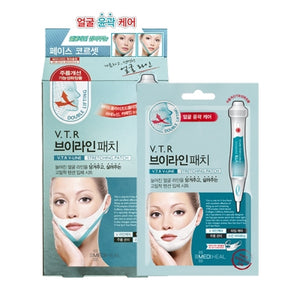 Description 
Mediheal's VTR V-Line Stretching Patch features Hydrolyzed Collagen, Adenosine and Caffeine as its main ingredients.

These ingredients work efficiently together to promote a smaller and more contoured face. It releases the proper amount of heat to eliminate fats and toxins that are stuck within the skin. With its uniques lifting technology, it stretches the skin up to make it firmer and perfectly sculpted.

It also leaves the skin properly nourished and moisturized, therefore promoting youthful and radiant skin.
Usage
1. After cleansing and toning face, remove the patch from the package.
2. Hang one side hole on each ear, aligning the mouth hole to your lips.
3. Leave it on for 20 to 30 minutes, then remove.
4. Massage the remaining essence onto your V-line in an upward motion. For an intensive treatment to achieve a lifted V-line, use 2 to 3 times per week for 4 consecutive weeks. Or, use 1 hour once a day. 
*Kindly note that results from the use of beauty product above may vary depending upon the individual and will depend on multiple factors, which include but are not limited to your age, gender, skin type and condition, use of other products used, health history, lifestyle, and diet.