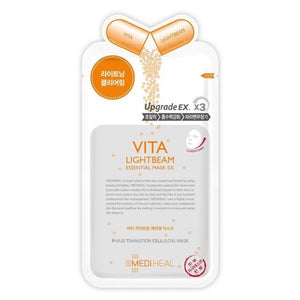 Description
An essential mask designed to give the skin a lighter, shinier and brighter look. 
It contains vitamin C, γ-oryzanol and tocopherol Acetate which are lightening ingredients. 
The mask provides intensive care especially to dark and shady areas by controlling formation of melanin to make the skin clearer and brighter!
Usage
1. After cleansing and toning, apply mask onto face.
2. Leave for 15-20 minutes then remove. 
3. Gently pat your skin to absorb excess essence.
*Kindly note that results from the use of beauty product above may vary depending upon the individual and will depend on multiple factors, which include but are not limited to your age, gender, skin type and condition, use of other products used, health history, lifestyle, and diet.