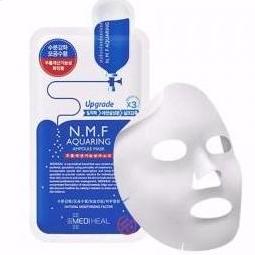 Description
Mediheal N.M.F Aquaring Ampoule Mask has water system of Natural Moisture Factor that helps providing abundant moisture to your skin. The thirst of dry skin is resolved through active water systems such as Hyaluronic acid, Ceramide, and more excelling in the N.M.F and Witch Hazel, and more that have the effect of managing loosened pores by adjusting sebum and tightening pores.
Usage
1. Wash your face cleanly.
2. Spread the mask eveny on your face.
3. Apply it by spreading with your fingers.
4. The highly concentrated ingredients will begin to be absorbed immediately upon application.
5. Leave on for 20~30 minutes on your face. 
6. After removing the mask, massage the leftover ingredients into your face. 

**TIP: " Considering the skin's 4-week turnover term, it is most effective to use consecutively 2~3 times a week for 4 weeks. (One month concetrated skin management program.)"
 *Kindly note that results from the use of beauty product above may vary depending upon the individual and will depend on multiple factors, which include but are not limited to your age, gender, skin type and condition, use of other products used, health history, lifestyle, and diet.