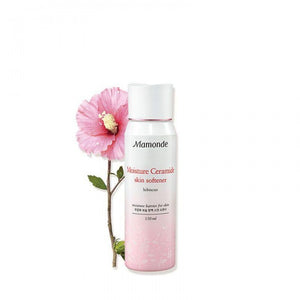 An ultra moisturizing skin softener that strengthens the weakened skin moisture barrier and provides impeccable moisturizing effects. It is suitable for all skin types, especially dry skin. It has the following key features: 
Powerful habitat barrier

Our proprietary Ceramide PC-104 ingredients and twice-fortified Mugunghwa moisturizing ingredients strengthen the skin barrier and deliver deep moisturization to the skin.

Strong double moisturizing barrier

Double-moisture barrier technology keeps skin moisturizer stable and lasts long and deep moisture comfort.

Basically different moisture barrier

It improves skin barrier that is collapsed due to harmful environment such as fine dust, and it makes skin healthy and different.

Deep moisture without stickiness

Contains Betaine, a natural moisturizing ingredient extracted from beet, to deliver a comfortable and refreshing moisture to your skin.
Usage
1. After cleansing, dispense small amount into hand and gently wipe or apply onto face starting from the nose outward.
2. Pat any remaining product into skin. Use morning and evening.
Ingredients 
 PURIFIED WATER, PROPANEDIOL, GLYCERETH-26, ETHANOL, BETAINE, BUTYLENE GLYCOL, 1,2-HEXANEDIOL, AMMONIUM ACRYLOYLDIMETHYLTAURATE / VPICOPOLYMER, BIS- , DIMETHICONE, PHAGE-60 HYDROGENATED CASTOR OIL, GLYCERIN, FRAGRANCE, ETHYLHEXYL GLYCERIN, XYLITYL GLUCOSIDE, ADENOSINE, HYDROGENATED LECITHIN, ANHYDROUS XYLITOL, DISODIUM EDITHIA, XYLITOL, GLUCOSE, SODIUM METHYLSTEARATE WHEREIN THE ACTIVE INGREDIENT IS SELECTED FROM THE GROUP CONSISTING OF CITRIC ACID, CITRIC ACID, CITRIC ACID, CITRIC ACID, CITRIC ACID, CITRIC ACID, CITRIC ACID, TAMAIDE MAEI (CERAMIDE PC-104 COMPONENT), INULIN LAURYL CARBAMATE, TOCOPHEROL, ACRYLATE / STEARYL METHACRYLATE COPOLYMER, MUSHROOM EXTRACT, A HYALURONIDASE, NICK ACID, POLYSORBATE 20, XANTHAN GUM, ROSEHIP FRUIT EXTRACT, CERAMIDE & P (0.025 PPM), INDOLE ACETIC ACID
*Kindly note that results from the use of beauty product above may vary depending upon the individual and will depend on multiple factors, which include but are not limited to your age, gender, skin type and condition, use of other products used, health history, lifestyle, and diet.