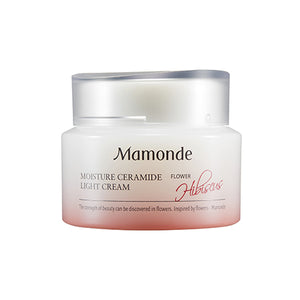 Description
Intense hibiscus moisturizing barrier cream that fortifies damaged skin barrier to create moist, well energized skin
A powerful moisturizing and anti-aging cream for dry skin types. This richly textured cream is formulated with ceramide to restore damaged skin and boost elasticity weakened by dehydration. Hydrating hibiscus strengthens skin's natural moisture barrier and prevents moisture loss with antioxidant properties, while Achillea millefolium extract and Glycolic acid gently exfoliate away dead skin cells. The result is silky soft and renewed skin.
Usage
1. As the last step of your skincare routine, take an appropriate amount and spread it from the centre to the outwards corners of your face to moisturise the skin. 
Ingredients 
Butylene Glycol, Glycerin, Cetyl Hexyl Hexanoate, Butyleneglycol Dicaprylate / Dicaprate, Dimethicone Pentaerythritol Tetrahexyl Hexanoate, Behenyl Alcohol, Hydroxypropyl Bis Palmitamide C14-22 Alcohol, Hydroxypropyl Bislauraid M-ile (Ceramide Pc-102 Component 14,000 Ppm), Stearic Acid, Arachidyl Alcohol, Palmitic Acid, Cholesterol, C12 -20 Alkyl Glucoside, Polyacrylate-13, Arachidyl Glucoside, Tromethamine, Fragrance, Polyisobutene, Glyceryl Caprylate, Xanthan Gum, Ethylhexyl Glycerin, Adenosine, Xylityl Glucoside, Anhydrous Xylitol, Polysorbate 20 , Sorbitan Esters Such As Saxitolate, Glucose, Xylitol, Disodium Edetate, Ceramide Adipate (100 Ppm), Arachidic Acid, De, Sharon Bark Extract, Trehalose, Tocopherol, Rosehip Fruit Extract As Sucrose, Indole Acetic Acid
*Kindly note that results from the use of beauty product above may vary depending upon the individual and will depend on multiple factors, which include but are not limited to your age, gender, skin type and condition, use of other products used, health history, lifestyle, and diet.