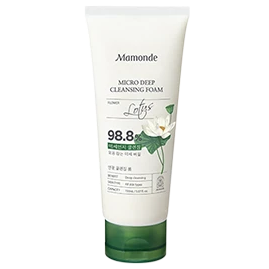 Description
A deep cleansing foam that washes away impurities on the pores to improve the appearance of blackheads. 98.8% fine dust cleansing by using a cationic polymer that strongly absorbs particulate matter with a negative charge to remove them from the skin.
It contains lotus extract and micro-sized kaolin gently cleanse the skin with an extra brightening effect.
Usage
1. Apply adequate amount of cleanser on a wet palm, gently make foam before applying on your face. 
2. Massage the T-Zone area where blackheads, whiteheads and excessive oil are easily formed. 
3. Wash it off with lukewarm water for 3-4 times and splash the cold water to tighten up pores. 


Ingredients
Water, PEG-8, Myristic Acid, Glycerin, Stearic Acid, Potassium Hydroxide, Lauric Acid, Palmitic Acid, Glyceryl Stearate, PEG-100 Stearate, Kaolin, Alcohol, Polyquaternium-7, Fragrance, PEG-150 Distearate, Disodium EDTA, Sodium Benzoate, Mannan, Nelumbo Nucifera Root Powder, Propanediol, Butylene Glycol, Nelumbo Nucifera Germ Extract, Nelumbium Speciosum Flower Extract, 1,2-Hexanediol, Phyllostachys Bambusoides Juice, Ethylhexylglycerin
*Kindly note that results from the use of beauty product above may vary depending upon the individual and will depend on multiple factors, which include but are not limited to your age, gender, skin type and condition, use of other products used, health history, lifestyle, and diet.