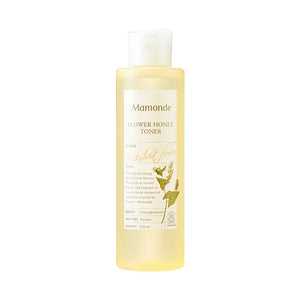 Description
An essence toner with the texture and efficacy of 10,000ppm concentrate of the Mamonde Flower Honey from the buckwheat flower that provides elasticity and nourishment to the skin. Contains propolis extract strengthens the skin moisture barrier, strengthening more as more layers are applied. 
Usage
1. After cleansing, pour an appropriate amount and gently appl using the fingers starting from the cheeks and tap lightly to absorb. 
Ingredients
Purified water, butyleneglycol, glycerin, propanediol, ethanol, phyphage-13-decyltetradeceth-24, 1,2-hexanediol, caprylic / capric triglyceride, glyceryl caprylate, (10 ppm), rosehip fruit extract, propolis extract, tocopherol, indoleacetic acid (10 ppm), ethylhexyl glycerin, disodium iodide, adenosine, fragrance, sucrose
*Kindly note that results from the use of beauty product above may vary depending upon the individual and will depend on multiple factors, which include but are not limited to your age, gender, skin type and condition, use of other products used, health history, lifestyle, and diet.