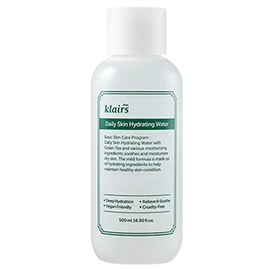 Description
A water-like hydrating toner with no viscosity. It contains 45% of green tea water with calming and antioxidizing effects to soothe your skin, Calendula extract and coconut water to ensure in-depth hydration. This light toner can be used daily in any season on any skin type as the watery texture will be quickly absorbed into your skin. It's also suitable to use as a toner to wash off your face at the first step of your skincare routine to even out skin texture, and its quick absorption enables you to layer it multiple times. It's recommended to people who prefer light and refreshing toner.
Usage

1. After cleansing, even out your skin texture using a cotton pad soaked in the toner.
2. Layer the toner where you feel extra dry by pressing lightly with a cotton pad or the palm of your hand.
3. Continue your routine with essence, cream, and so on.
Ingredients

Camellia Sinensis Leaf Water, Aqua (Water), Glycerin, Propanediol, 1,2-Hexanediol, Butylene Glycol, Calendula Officinalis Flower Water, Cocos Nucifera (Coconut) Water, Betaine, Panthenol, Pantolactone, Trehalose, Sodium PCA, Sodium Citrate, Disodium EDTA
*Kindly note that results from the use of beauty product above may vary depending upon the individual and will depend on multiple factors, which include but are not limited to your age, gender, skin type and condition, use of other products used, health history, lifestyle, and diet.