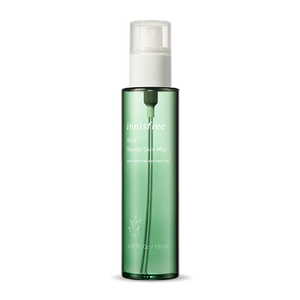 Description
Amist/ toner which contains 94% extract of Jeju organic aloe flesh from its leaves which contains more amino acid and moisture than its leaves and any other parts of aloe, which helps soothes the skin damaged from UV rays and heat while providing intensive moisture to the skin. The Aloe Vitalizing Energy™ unique to innisfree Aloe line soothes the skin and strengthens the skin barrier to make it vibrant and feeling fresh.

It is free of colorant, mineral oil, artificial fragrances, animal ingredients and imidazolidinyl urea.
Usage
After cleansing, close your eyes and spray an appropriate amount from 20-30 cm from face. Use any time your skin feels dry or needs instant moisturization, before or after makeup.
Ingredients 

Water/ Aqua/ Eau, butylene glycol, phenoxyethanol, aloe barbadensis leaf extract, ethylhexylglycerin, disodium edta, madecassoside. 
*Kindly note that results from the use of beauty product above may vary depending upon the individual and will depend on multiple factors, which include but are not limited to your age, gender, skin type and condition, use of other products used, health history, lifestyle, and diet.