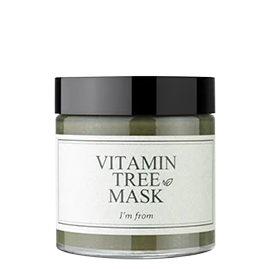 Description
Instantly supercharge your skin with plenty of precious vitamins with this Vitamin Tree Mask. In just 10 minutes, your skin feels so healthy and get its natural glow.
Experience the below effects in just a bottle of mask!
- Detoxifying
- Nourishing
- Rich Vitamins
- Purifying
- Brightening
- Hydrating
- Contains 661 leaves of Fresh Vitamin Tree
Usage
After cleansing, spread Vitamin Tree mask on your face. For about ten minutes to a maximum of 1 hour, be relaxed. Wash off the mask after the suggested time. Follow with your skincare routine.
Ingredients
Hippophae Rhamnoides Extract, Glycerin, Hippophae Rhamnoides Leaf, Caprylic/Capric Triglyceride, Cetyl Alcohol, Glyceryl Stearate, PEG-100 Stearate, Glyceryl Stearate SE, Beeswax, Sodium Polyacrylodyldimethy Taurate, Polysorbate 60, Sorbitan Sesquioleate, Stearyl Alcohol, Saussurea Involucrata Extract, Selaginella Lepidophylla Extract, Rubus Chamaemorus Fruit Extract, Hippophae Rhamnoides Fruit Extract, Sodium Hyaluronate, Jojoba Seed Oil, Magesium Aluminium Silicate, Xanthan Gum, Myristyl Alcohol, Allantoin, Tocopheryl Acetate, Butylene Glycol, 1,2 - Hexanediol, Caprylyl Glycol, Caprylhydroxamic Acid, Boswellia Serrata Resin Extract, Dipotassium Glycyrrhizate, Disodium EDTA, Pathenol, Ethylhexylglycerin, Ethyl Ascorbyl Ether
*Kindly note that results from the use of beauty product above may vary depending upon the individual and will depend on multiple factors, which include but are not limited to your age, gender, skin type and condition, use of other products used, health history, lifestyle, and diet.