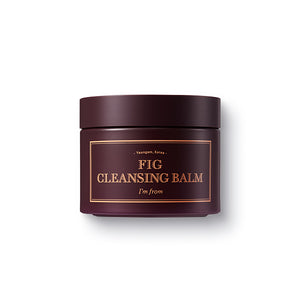 Description
This cleansing balm contains finely selected fresh fig from Yeong-am, South Korea. Formulated with 7.8% of Fig Oil Water, it is designed to effectively remove makeup, dirt and impurities or gently remove dead skin cells. The sherbet like texture will gradually transform into oil formula when massaged onto skin. It turns into milky texture when washed off and leaving your skin with hydrating finish, smooth and silky.
Usage
1. Use a spatula and scoop an adequate amount.
2. Spread gently on the face and leave it on for 10-15 minutes.
3. Gently wash by massaging your face with lukewarm water.
Ingredients
Cetyl Ethylhexanoate, Polyethylene, Synthetic Wax, Ficus carica (fig) Fruit Extract, Peg-10 Isostearate, Peg-20 Glyceryl Triisostearate, Caprylic/Capric Triglyceride, Fragrance, Sorbitan Sesquioleate, Caprylyl Glycol, Ethylhexylglycerin, Moringa Oleifera Seed Oil, Curcuma longa (turmeric) Root Extrac, Melia Azadirachta Flower Extract, Melia Azadirachta Leaf extract, Melia Azadirachta Bark Extract, Corallina Officinalis Extract, Ocimum Sanctum Leaf Extract
*Kindly note that results from the use of beauty product above may vary depending upon the individual and will depend on multiple factors, which include but are not limited to your age, gender, skin type and condition, use of other products used, health history, lifestyle, and diet.