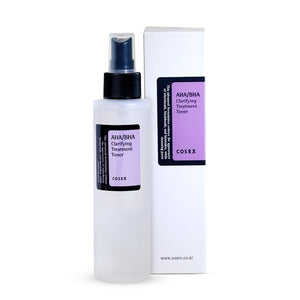 Description
Enhanced skin flexibility by putting natural AHA (Pyrus Malus Apple Fruit Water 10%) and natural BHA in mineral water (jeju samdasu). Toning mist enhancing skin flexibility and removing dead skin cells.
"There is a reason to use best-quality AHA/BHA products daily" AHA/BHA Clarifying Treatment Toner is an effective toner for your flaky skin caused by lack of moisture and occurring dead skin cell, helping with early prevention of whiteheads and blackheads. Contained in AHA/BHA Clarifying Treatment Toner are mineral water (as opposed to purified water) for your skin health, natural AHA, natural BHA to clean away dead skin cell. Additionally, valid substances like allantoin provide moisture and nutrition for moist and smooth skin.
Usage

1. Use in skin/toner stage after facial wash every morning/evening.
2. Amply wet a cotton pad and blot the skin along the skin texture insinde out as if gently massaging.
Ingredients
Mineral Water, Salix Alba (Willow) Bark Water, Pyrus Malus (Apple) Fruit Water, Butylene Glycol, 1,2-Hexanediol,
Sodium Lactate, Glycolic Acid, Water, Betaine Salicylate, Allantoin, Panthenol, Ethyl Hexanediol
*Kindly note that results from the use of beauty product above may vary depending upon the individual and will depend on multiple factors, which include but are not limited to your age, gender, skin type and condition, use of other products used, health history, lifestyle, and diet.