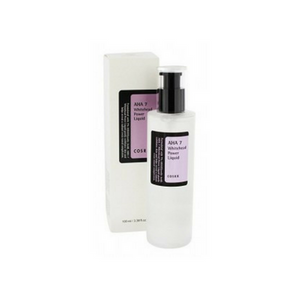 Description
Contains Pyrus Malus (Apple) Fruit Water which is an alpha-hydroxy acid naturally-occurring found in sugar cane and malic acid, derived from apples, which will help to exfoliate dead skin cells, reduce the appearance of fine lines, sun damage and hyper-pigmentation, diminish the appearance of large pores and acne scarring.
A great ingredient for reducing blackheads, whiteheads and troubles on skin. It even moisturizes the skin at same time as removing dead skin cells. You will find your skin is smooth, soft, and comfortable.
Moisture, pore control, and brightening :
It immediately purifies and tones up your skin leaving is clearer and more bright.
Whitehead clearance :
No more difficulty removing whiteheads and sebum !
AHA product with hyaluronic acid :
It controls excessive sebum and achieves excellent moisture retention in combination with hyaluronic acid.
AHA for repairing skin damage :
Works well for sun damaged skin. Also it is good for spots, dryness and trouble.
Usage
1. Spread lightly on areas with whiteheads and dead skin cells in the serum/ essence stage after using skin and toner to clean skin texture. 
2. Use clean hand or cotton pad to spread on the face, to absorb by tapping softly with fingertips.
3. If you feel severe stimulation or your purpose is for the removal or whitehead and sebum, wash off after 4 to 5 minutes lightly with lukewarm water. 
4. Only after fully absorbing AHA 7 whitehead power liquid, use other essence and cream, and the next morning do not forget to use sunscreen such as sun cream.
CAUTION:
1. AHA 7 WHITEHEAD POWER LIQUID IS A HIGH-CONCENTRATE AHA PRODUCT AND USE A SMALL AMOUNT ON AREAS WITH WHITEHEADS AND DEAD SKIN CELL FOR THE SKIN TO ADAPT ITSELF. BEGIN WITH ONE TIME A WEEK. AND AFTER THE SKIN HAS ADAPTED. USE 2 TO 3 TIMES A WEEK. FOR MAINTAINING CLEAR SKIN WITHOUT DEAD SKIN CELL, SEBUM. OR WHITEHEADS. 

2. ON DAYS WHEN YOU USE AHA 7 WHITEHEAD POWER LIQUID, DO NOT USE OTHER EXFOLIATING PRODUCTS, AHA PRODUCTS, BHA PRODUCTS, RETINOL, OR VITAMIN C ELEMENTS. 

3. AFTER THE USE OF AHA 7 WHITEHEAD POWER LIQUID. USE SERUM OR MASK PRODUCT FOR MOISTURE RETENTION AND ANTIOXIDANT FUNCTION, FOR A HEIGHTENED MOISTURE RETENTION EFFECT. 
Ingredients 
Pyrus Malus (Apple) Fruit Water, Butylene Glycol, Glycolic Acid, Water, Niacinamide, Sodium Hydroxide, 1,2-Hexanediol, Panthenol, Sodium Hyaluronate, Xanthan Gum, Ethyl Hexanediol
*Kindly note that results from the use of beauty product above may vary depending upon the individual and will depend on multiple factors, which include but are not limited to your age, gender, skin type and condition, use of other products used, health history, lifestyle, and diet.