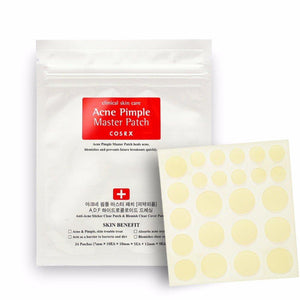 Description
Acne Pimple Master Patch (24 patches) is a hydrocolloid patch that prevents secondary infections while healing.
The light and thin skin protectant patch allows intensive care for the smallest problematic areas while protecting the skin from external pollutants. It is a clear patch so makeup application is possible while managing intensive care for the problematic area. 
Usage
1. Wash and dry the wounded area.
2. Stick the patch on the desired area. 
Ingredients
Cellulose gum, Styrene Isoprene Styrene Block Copolymer, Polysobutylene, Petroleum Resin, Polyurethane Film, Liquid Paraffin, Tetrakis Methane
*Kindly note that results from the use of beauty product above may vary depending upon the individual and will depend on multiple factors, which include but are not limited to your age, gender, skin type and condition, use of other products used, health history, lifestyle, and diet.