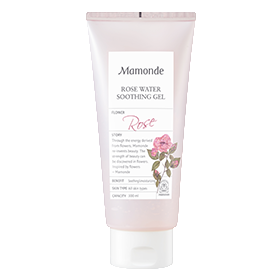 Description 
A multi-purpose, soothing gel containing 90.81% rose water which makes skin feel hydrated but at the same time absorbs quickly
Soothing, moisturizing effects of damask rose water
- We've picked Damask Roses that were grown in morning dew to deliver soothing and moisturizing effects to the skin.
Large quantity, multi-purpose, soothing gel
- Cools and soothes a dehydrated and fatigued face, hair, and body while leaving the scent of roses
Formulated without 7 ingredients
- Free of animal ingredients, mineral oil, polyacrylamide, imidazolidinyl urea, triethanoamine, tar pigment, PEG surfactant
Usage
1. Apply appropriately. Keep it in the refrigerator for a cooler sensation.
*Kindly note that results from the use of beauty product above may vary depending upon the individual and will depend on multiple factors, which include but are not limited to your age, gender, skin type and condition, use of other products used, health history, lifestyle, and diet.