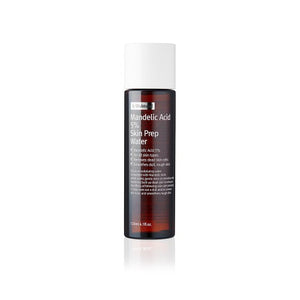 Description
This is a gentle exfoliator containing 5% Mandelic Acid less irritating compared to other AHA ingredients. Panthenol, Centella Asiatica Extract and Beta-Glucan supply moisture to soothe skin after peeling. Recommended as a gentle, low-irritant exfoliator.
Usage
After cleansing, soak the exfoliator with a cotton pad and wipe along the skin texture at the first stage of the skin care routine.
Ingredients
Water, Mandelic Acid, Butylene Glycol, Beta-Glucan, Panthenol, Glycyrrhiza Glabra (Licorice) Root Extract, Prunus Amygdalus Dulcis (Sweet Almond) Fruit Extract, Sodium Hyaluronate, Sorbitan Sesquioleate, Centella Asiatica Extract, Houttuynia Cordata Extract, Sorbitol, Dimethyl Sulfone, Chlorphenesin, Sodium Citrate, Arginine, PEG-60 Hydrogenated Castor Oil, Ethylhexylglycerin, Natto Gum, Carbomer
*Kindly note that results from the use of beauty product above may vary depending upon the individual and will depend on multiple factors, which include but are not limited to your age, gender, skin type and condition, use of other products used, health history, lifestyle, and diet.