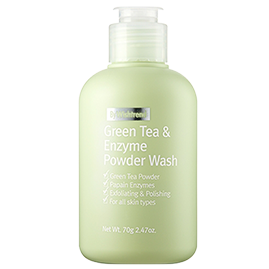 Description
This powder cleanser is moist as a low pH cleanser and refreshing as a scrub. Green Tea Powder effective in cleansing and soothing guarantees refreshing use. Papain Enzyme, Coconut-derived Surfactant and Baking Soda gently melt away blackheads, impurities and dead skin cells for brighter and smoother skin.
Usage

1. Dispense an appropriate amount on wet hands and work into a lather using warm water.
2. Place the foam over the face, cleanse in a gentle massaging motion and rinse off with water.
Ingredients
Sodium Bicarbonate, Sodium Lauroyl Glutamate, Sodium Cocoyl Isethionate, Zea Mays (Corn) Starch, Camellia Sinensis Leaf Powder, Lysine HCL, Proline, Sodium Ascorbyl Phosphate, Acetyl Methionine, Theanine, Carica Papaya (Papaya) Fruit Extract, Sorbitol, Papain, Betaine, Cellulose Gum, Citric Acid, Sodium Hyaluronate
*Kindly note that results from the use of beauty product above may vary depending upon the individual and will depend on multiple factors, which include but are not limited to your age, gender, skin type and condition, use of other products used, health history, lifestyle, and diet.