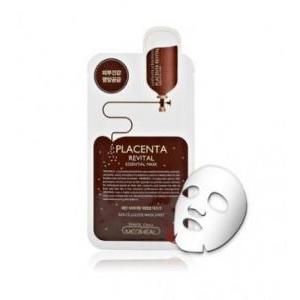 Description
Strengthen nutrition ingredient Hydrolyzed Placental Extract and Hydrolyzed Chitosan abundantly deliver nutrition and manage pure and bright skin.
Especially, the upgraded function 'Clear Fit' has excellent effect in V-zone care and it tightens facial line and also the Clear Fit function enables sheet transformation by changing the white sheet to transparent type (Gel type).
Usage
1. After cleansing and toning, place the mask onto the face
2. And leave for 15 to 20 minutes
3. Remove the mask after the allotted time and pat the remaining essence onto the skin for better absorption
 Active Ingredients
Water, Butylene Glycol, Glycerin, Hamamelis Virginiana (Witch Hazel) Water, PEG-60 Hydrogenated Castor Oil, Triethanolamine, Carbomer, Tocapheryl Acetate, Hydroxyethylcellulose, Dipotassium Glycyrrhizate, Chitosan, Sodium Hyaluronate, Sodium Ascorbyl Phosphate, Natto Gum, Wheat Amino Acids, Disodium EDTA, Methylparaben, Propylparaben, Fragrance
 *Kindly note that results from the use of beauty product above may vary depending upon the individual and will depend on multiple factors, which include but are not limited to your age, gender, skin type and condition, use of other products used, health history, lifestyle, and diet.