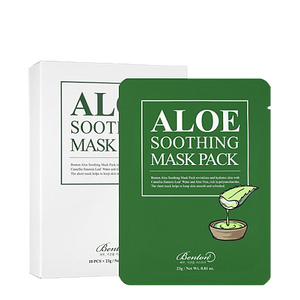 Description
Benton Aloe Soothing Mask Pack revitalizes and hydrates skin with Camellia Sinensis Leaf Water and Aloe Vera, rich in polysaccharides.
The sheet mask helps to keep skin smooth and refreshed.
Recommended for:

Dry and tight skin that needs hydration
Sensitive, dry, and itchy skin 
Skin with a lot of heat
Skin with a poor oil-water balance
Skin sensitive to harmful chemicals
Skin that needs a light, oil-free product
Usage
1. After cleansing, use toner to make the skin smooth
2. Open the pouch and gently put the sheet mask on your face for 10 to 20 minutes. 
3. After removing the mask, tap your face to aid the absorption of the remaining essence. 
**TIP: Apply the Aloe BHA Toner before and apply the Aloe Propolis Soothing Gel after using the sheet mask this will provide more moisture and will have a soothing effect on your skin.
Ingredients
Aloe Barbadensis Leaf Water, Aqua (Water), Camellia Sinensis Leaf Water, Glycerin, Pentylene Glycol, Sodium PCA, Aloe Barbadensis Leaf Extract, Sodium Hyaluronate, Beta-Glucan, Cucumis Sativus (Cucumber) Fruit Extract, Butylene Glycol, Xanthan Gum, Microcrystalline Cellulose, Sodium Gluconate, Betaine, 1,2-Hexanediol, Propanediol, Dipotassium Glycyrrhizate, Cellulose Gum
 *Kindly note that results from the use of beauty product above may vary depending upon the individual and will depend on multiple factors, which include but are not limited to your age, gender, skin type and condition, use of other products used, health history, lifestyle, and diet.